An excerpt from by Courtney E. Ackerman
"Believe in yourself."
That is the message that we encounter constantly, in books, television shows, superhero comics, and common myths and legends.
We are told that we can accomplish anything if we believe in ourselves. Of course, we know that to be untrue; we cannot accomplish anything the in the world simply through belief—if that were true, a lot more children would be soaring in the skies above their garage roof instead of lugging around a cast for a few weeks!
However, we know that believing in yourself and accepting yourself for who you are is an important factor in success, relationships, and happiness and that self-esteem plays an important role in living a flourishing life. It provides us with belief in our abilities and the motivation to carry them out, ultimately reaching fulfillment as we navigate life with a positive outlook.
Various studies have confirmed that self-esteem has a direct relationship with our overall well-being, and we would do well to keep this fact in mind—both for ourselves and for those around us, particularly the developing children we interact with.
What is the Meaning of Self-Esteem? A Definition
You probably already have a good idea, but let's start from the beginning anyway: what is self-esteem?
Self-esteem refers to a person's overall sense of his or her value or worth. It can be considered a sort of measure of how much a person "values, approves of, appreciates, prizes, or likes him or herself" (Adler & Stewart, 2004).
According to self-esteem expert Morris Rosenberg, self-esteem is quite simply one's attitude toward oneself (1965). He described it as a "favourable or unfavourable attitude toward the self".
Various factors believed to influence our self-esteem include:
Genetics
Personality
Life experiences
Age
Health
Thoughts
Social circumstances
The reactions of others
Comparing the self to others
An important note is that self-esteem is not fixed. It is malleable and measurable, meaning we can test for and improve upon it.
Self-Esteem and Psychology
Self-esteem has been a hot topic in psychology for decades, going about as far back as psychology itself. Even Freud, who many consider the founding father of psychology (although he's a bit of an estranged father at this point), had theories about self-esteem at the heart of his work. What self-esteem is, how it develops (or fails to develop) and what influences it has kept psychologists busy for a long time, and there's no sign that we'll have it all figured out anytime soon!
While there is much we still have to learn about self-esteem, we have at least been able to narrow down what self-esteem is and how it differs from other, similar constructs. Read on to learn what sets self-esteem apart from other self-directed traits and states.
Self-Esteem vs. Self-Concept
Self-esteem is not self-concept, although self-esteem may be a part of self-concept. Self-concept is the perception that we have of ourselves, our answer when we ask ourselves the question "Who am I?" It is knowing about one's own tendencies, thoughts, preferences and habits, hobbies, skills, and areas of weakness.
Put simply, the awareness of who we are is our concept of our self.
Purkey (1988) describes self-concept as:
"the totality of a complex, organized, and dynamic system of learned beliefs, attitudes and opinions that each person holds to be true about his or her personal existence".
According to Carl Rogers, founder of client-centered therapy, self-concept is an overarching construct that self-esteem is one of the components of it (McLeod, 2008).
Self-Esteem vs. Self-Image
Another similar term with a different meaning is self-image; self-image is similar to self-concept in that it is all about how you see yourself (McLeod, 2008). Instead of being based on reality, however, it can be based on false and inaccurate thoughts about ourselves. Our self-image may be close to reality or far from it, but it is generally not completely in line with objective reality or with the way others perceive us.
Self-Esteem vs. Self-Worth
Self-esteem is a similar concept to self-worth but with a small (although important) difference: self-esteem is what we think, feel, and believe about ourselves, while self-worth is the more global recognition that we are valuable human beings worthy of love (Hibbert, 2013).
Self-Esteem vs. Self-Confidence
Self-esteem is not self-confidence; self-confidence is about your trust in yourself and your ability to deal with challenges, solve problems, and engage successfully with the world (Burton, 2015). As you probably noted from this description, self-confidence is based more on external measures of success and value than the internal measures that contribute to self-esteem. One can have high self-confidence, particularly in a certain area or field, but still lack a healthy sense of overall value or self-esteem.
Self-Esteem vs. Self-Efficacy
Similar to self-confidence, self-efficacy is also related to self-esteem but not a proxy for it. Self-efficacy refers to the belief in one's ability to succeed at certain tasks (Neil, 2005). You could have high self-efficacy when it comes to playing basketball, but low self-efficacy when it comes to succeeding in math class. Unlike self-esteem, self-efficacy is more specific rather than global, and it is based on external success rather than internal worth.
Self-Esteem vs. Self-Compassion
Finally, self-esteem is also not self-compassion. Self-compassioncenters on how we relate to ourselves rather than how we judge or perceive ourselves (Neff, n.d.). Being self-compassionate means we are kind and forgiving to ourselves, and that we avoid being harsh or overly critical of ourselves. Self-compassion can lead us to a healthy sense of self-esteem, but it is not in and of itself self-esteem.
We explore this further in The Science of Self-Acceptance Masterclass©
Esteem in Maslow's Theory – The Hierarchy of Needs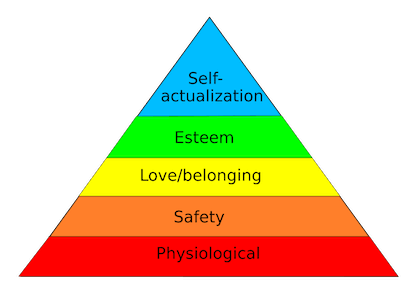 The mention of esteem may bring to mind the fourth level of Maslow's pyramid: esteem needs. While these needs and the concept of self-esteem are certainly related, Maslow's esteem needs are more focused on external measures of esteem, such as respect, status, recognition, accomplishment, and prestige (McLeod, 2017).
There is a component of self-esteem within this level of the hierarchy, but Maslow felt that the esteem of others was more important for development and need fulfillment than self-esteem. He explained that for one to achieve self-actualization and grow, their need for inner-respect and esteem from others must be met.
Incorporating Self-Esteem in Positive Psychology
Dr. Martin Seligman has some concerns about openly accepting self-esteem as part of positive psychology. He worries that people live in the world where self-esteem is injected into a person's identity, not caring in how it is done, as long as the image of "confidence" is obtained. He expressed the following in 2006:
I am not against self-esteem, but I believe that self-esteem is just a meter that reads out the state of the system. It is not an end in itself. When you are doing well in school or work, when you are doing well with the people you love, when you are doing well in play, the meter will register high. When you are doing badly, it will register low. (p. v)
Seligman makes a great point, as it is important to take his words into consideration when looking at self-esteem. Self-esteem and positive psychology may not marry quite yet, so it is important to look at what research tells us about self-esteem before we construct a rationale for it as positive psychology researcher, coach, or practitioner.


Can We Help Boost Self-Esteem Issues with Therapy and Counseling?
Based on research like that described above, we have learned that there are many ways therapy and counseling can help clients to improve their self-esteem. If done correctly, therapy can be an excellent method of enhancing self-esteem, especially if it's low to begin with.
Here are some of the ways therapy and counseling can a client's boost self-esteem:
When a client shares their inner thoughts and feelings with the therapist, and the therapist responds with acceptance and compassion rather than judgment or correction, this can build the foundations of healthy self-esteem for the client.
This continued acceptance and unconditional positive regard encourage the client to re-think some of their assumptions, and come to the conclusion that "Maybe there's nothing wrong with me after all!"
The therapist can explain that self-esteem is a belief rather than a fact and that beliefs are based on our experiences; this can help the client understand that he could be exactly the same person as he is right now and have high self-esteem instead of low, if he had different experiences that cultivated a sense of high self-esteem instead of low self-esteem.
The therapist can offer the client new experiences upon which to base this new belief about herself, experiences in which the client is "basically acceptable" instead of "basically wrong." The therapist's acceptance of the client can act as a model for the client of how she can accept herself.
Most importantly, the therapist can accept the client for who he is and affirm his thoughts and feelings as acceptable rather than criticizing him for them. The therapist does not need to approve of each and every action taken by the client, but showing acceptance and approval of who he is at the deepest level will have an extremely positive impact on his own belief in his worth and value as a person (Gilbertson, 2016).
Following these guidelines will encourage your client to develop a better sense of self-love, self-worth, self-acceptance, and self-esteem, as well as discouraging "needless shame" and learning how to separate herself from her behavior (Gilbertson, 2016).
Can You Test Self-Esteem, and What are the Problems with Assessment?
Self-esteem is the topic of many a psychological scale and assessment, and many of them are valid, reliable, and very popular among researchers; however, these assessments are not perfect. There are a few problems and considerations you should take into account if you want to measure self-esteem, including:
Lack of consensus on the definition (Demo, 1985).
Overall gender differences in self-esteem (Bingham, 1983).
Too many instruments for assessing self-esteem, and low correlations between them (Demo, 1985).
The unexplained variance between self-reports and inferred measures such as ratings by others (Demo, 1985).
Although these issues are certainly not unique to the measurement of self-esteem, one should approach the assessment of self-esteem with multiple measurement methods in hand, with the appropriate level of caution, or both. Still, even though there are various issues with the measurement of self-esteem, avoiding the measurement is not an option! If you are looking to measure self-esteem and worried about finding a validated scale, look no further than one of the foundations of self-esteem research: Rosenberg's scale.
Measuring Self-Esteem with the Rosenberg Scale
The most common scale of self-esteem is Rosenberg's Self-Esteem Scale (also called the RSE and sometimes the SES). This scale was developed by Rosenberg and presented in his 1965 book Society and the Adolescent Self-Image.
It contains 10 items rated on a scale from 1 (strongly agree) to 4 (strongly disagree). Some of the items are reverse-scored, and the total score can be calculated by summing up the total points for an overall measure of self-esteem (although it can also be scored in a different, more complex manner—see page 61 of this PDF for instructions).
The 10 items are:
1. On the whole, I am satisfied with myself.
2. At times I think I am no good at all.
3. I feel that I have a number of good qualities.
4. I am able to do things as well as most other people.
5. I feel I do not have much to be proud of.
6. I certainly feel useless at times.
7. I feel that I'm a person of worth.
8. I wish I could have more respect for myself.
9. All in all, I am inclined to think that I am a failure.
10. I take a positive attitude toward myself.
As you likely figured out already, items 2, 5, 6, 8, and 9 are reverse-scored, while the other items are scored normally. This creates a single score of between 10 and 40 points, with lower scores indicating higher self-esteem. Put another way, higher scores indicate a strong sense of low self-esteem.
The scale is considered highly consistent and reliable, and scores correlate highly with other measures of self-esteem and negatively with measures of depression and anxiety. It has been used by thousands of researchers throughout the years and is still in use today, making it one of the most-cited scales ever developed.
The Coopersmith Self-Esteem Inventory (1967/1981)
The second most commonly used reliable and valid measure for self-esteem is The Coopersmith Self-Esteem Inventory. Within this test, 50 items are included to measure the test-takes attitudes towards themselves, by responding to statements with the selection of "like me" or "not like me" (Robinson, Shaver & Wrightsman, 2010).
Initially created to test the self-esteem of children, it was later altered by Ryden (1978) and now two separate versions exist; one for children and one for adults.