ALOHA IS....never forgetting our fallen heroes, the lives lost, and the rebirth of America on 9/11. Everyone has a 9/11 story - especially if you lived in the tri-state area then. Here is mine.
On Sept 10, I was wrapping up the US Open Tennis Championships at the stadium (turned out to be my last), where I was the Assistant to the Tournament Director. I managed the relationship with celebrity hairstylist John Barrett's salon as our VIP hair salon in the stadium. I was on the phone with their PR contact making plans to come into the city to review their first Open experience and I was exhausted. I had been living in a Queens hotel and worked 12-hour days for 4 weeks straight. So I said, "Know what? It would be the death of me if I came into the city TOMORROW so how about Thursday?" (I never used that phrase before!) I went home and woke up to the greatest tragedy of our generation.
My ex beau had to walk over the Brooklyn Bridge to get home to Long Island that night. My boss walked up to the top of Arthur Ashe stadium and said he could see the smoke spewing from the towers. Temps who came to work in our Westchester office said they didn't want to be in the city anymore, traumatized from seeing people jump to their deaths. And then, there were the calls and emails from a young woman frantically trying to locate a friend who worked as one of our VIP drivers for the tennis players. Turns out, this driver was also NYFD and he was missing. His name was Manny and on this day he became a hero after running into the tower to his death. I attended his funeral, the largest I will ever have attended.
In that same week, my youngest brother called me crying, letting me know our grandmother died in the Philippines. He was heartbroken and exhausted from scouring Ground Zero with his pals in search of a college friend who was never found, leaving behind his new bride - pregnant with their first child and due the next month. Part of this group, my ex beau fell in love with the wife's sister during this time. They're now married with children.
I WILL NEVER FORGET that day and how I made a friend for life in Wanda. From tragedy, we've all written new chapters in the form of new friendships, families, stronger communities, love, and hope for a better future. And, we owe this to our fallen heroes.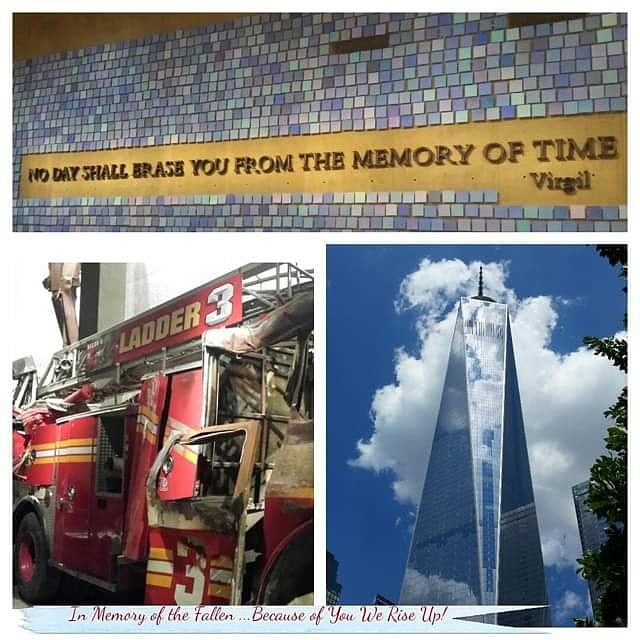 Fast Forward: It was a surreal experience to return to Ground Zero after it was rebuilt and to visit the 9/11 museum with my West Coast family. It was an eye-opening experience for my husband and stepson.