What do you get when you put a fish in a donut box? A promposal!
This morning, my stepson included me in one of his small rites of passage that I will forever treasure - his promposal!
A promposal is a special, elaborate, or creative way of asking someone to a high school prom. Using props, pranks, or another unique production, a promposal takes asking someone to prom to the next level. It is another way of making your prom experience memorable.
This small but meaningful event was also the very first thing I've accomplished on my "50 by 50" bucket list. Between now and my birthday on October 24th, I will learn, do or try 50 new things!
You see, I never went to prom, and I've never witnessed a promposal until today!
The Back Story
This past week, I found out that, as of right now, I cannot attend Aidan's graduation due to COVID guidelines. It broke me. I have watched this boy grow up and grow through so much in his life, and I feel like I grew up with him. I got to witness high school through his eyes in a way that I never got to experience myself.
Also, as a blended family, I feel like I, too, am graduating from this life chapter as a first-time wife and mother in my forties. Fifty percent of this boy's life was spent under my roof in the past nine years, making me just as responsible for his safety, care, and well-being.
So, when I found out that only two people could attend his graduation, I was heartbroken. Aidan could see and hear my pain in my reaction. I went to another room to cry. Frustrated, I started yelling but with humor. "Fine!" I said. "Ok, Boobie. I'm gonna remember this. I'm gonna remember every potato I peeled, steak I overcooked, and time I took care of your dog for you!"
Solemnly, he responded, "OK."

The Pandemic
Two positive things that came out of this pandemic were Aidan learning how to fish and meeting his girlfriend, Kali. He and his best friend, Tom, only went to a small pond or lake, and he only caught small fish. But it was still something outdoorsy, relaxing, fun, and new for him to learn, do, and try!
Aidan met Kali through mutual friends. She's smart, independent, athletic, creative, and kind. She also understands Aidan's sense of humor. (By the way, I think it's funny that he has a girlfriend named Kali, as in California, and a stepmom named CT, as in Connecticut.)
The Prom
Last week, we found out Kali's family offered to host a private prom for the kids at their house. Aidan was so excited that he showed us pictures of Kali's dress. He was also proud of her for finding it at a local Goodwill for only $10! We were so excited for him. Then, a few days ago, he announced his plans for his promposal.
The Plan
Recently, Kali saw a funny Tik Tok video about a prank using a fish. So, she dared Aidan to do something similar. Little did she know he would use it for his promposal. Aidan's idea was to go fishing this weekend and use the fish he caught to put into a donut box. Then, he would offer her donuts on Sunday morning. Naturally, Matt and I discouraged it, imagining how smelly this endeavor would be. We suggested using a plush fish stuffed animal instead, but he had a clear vision of what he wanted to achieve.
Aidan was out all day yesterday, fishing, attending Kali's lacrosse game, and having dinner with his best friends, knowing that they're all going their separate ways in a few months. Meanwhile, my husband, Matt, and I came up with an idea in case Aidan didn't catch a fish. He could buy her a beautiful betta fish! That way, she would have a cute pet and a memento. But Aidan stuck to his plan.
My Role
Aidan didn't catch a fish, but he did come home at 10 PM last night with a Krispy Kreme donut box and a frozen red tilapia from the H Mart seafood department! Inside the box, he had already written his promposal question and even designed the word "prom" using red fish scales. He kept the fish on ice all night in a bucket in the garage.
When I asked Aidan who would video the event or take pictures, he said he didn't plan on having anyone else there. I wasn't surprised because he can be pretty private about things like this, just like his dad. But, I insisted this was a big moment meant to be captured on film. So, I asked to be a part of it, especially since I never went to prom or witnessed a promposal before. Because he felt so bad about my not being able to attend his graduation, he said, OK!
I also offered to dress up the inside of his promposal box. As we live in San Diego, I wanted to make the bottom of the box look like the Pacific Ocean. That way, it didn't just look like a fish in a box. I also thought the blue would help his lettering and the fish color pop even more. Presentation is everything, am I right? And, this girl deserved the extra effort. I got it done by midnight.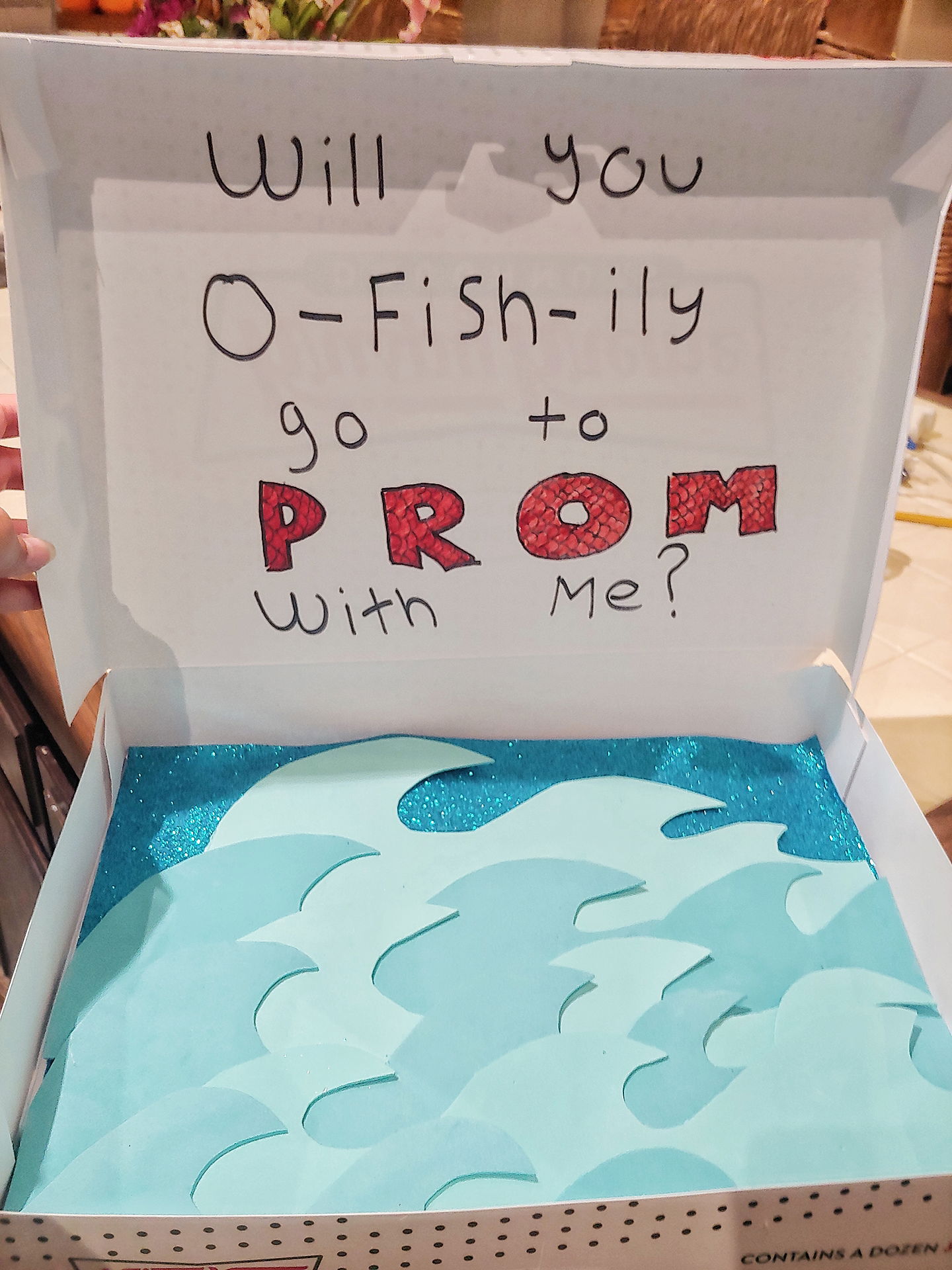 The Promposal
Today, Kali had planned to swing by the house to help Aidan with dropping his van off for a stereo installation. It was his 18th birthday gift from us. Aidan told her to come into the house when she arrived to see something I made. A creative young woman, Kali has designed and sewn her own bathing suits!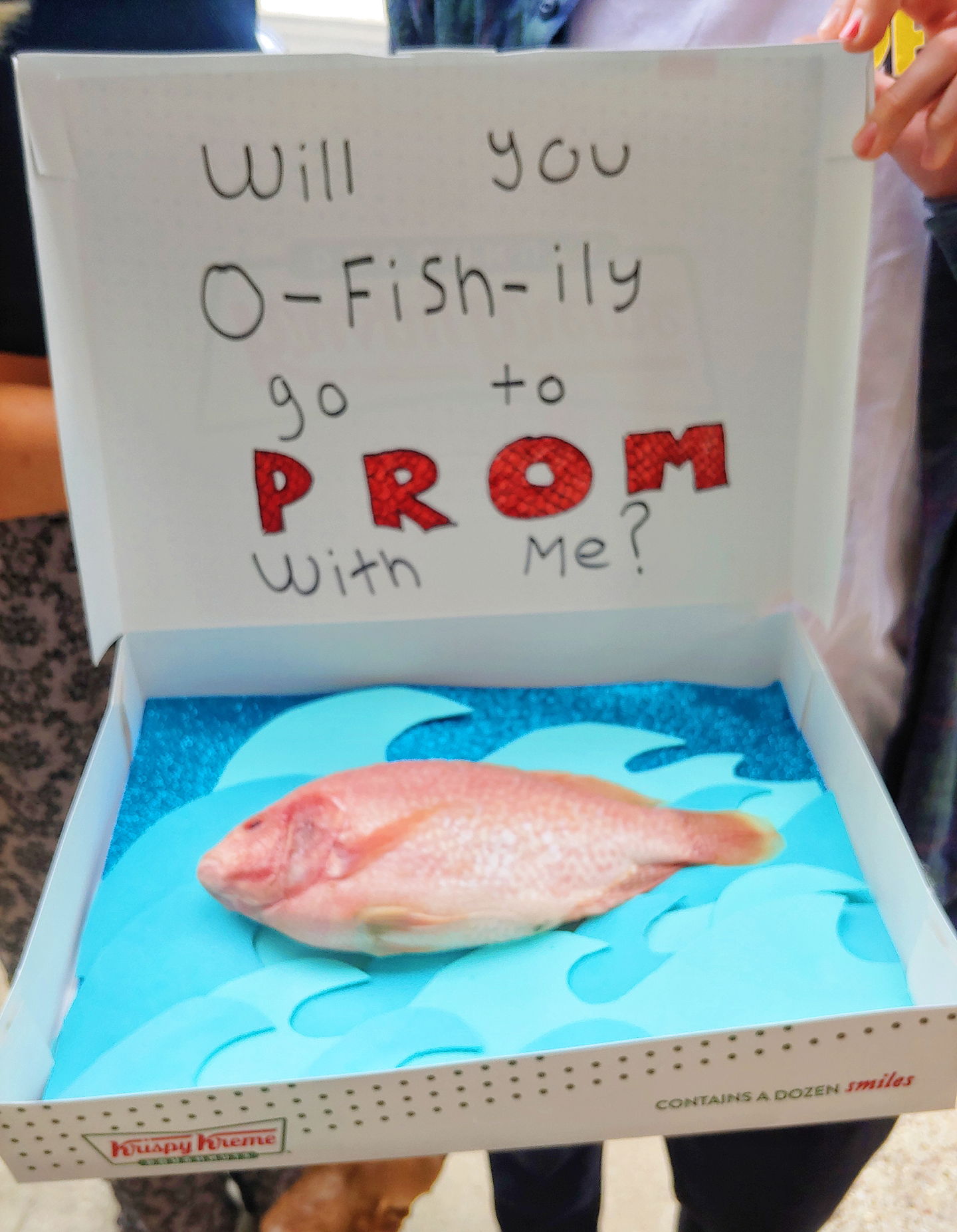 The rest is history.
Kali loved her promposal, even though it was a little smelly! But my husband, teased her anyway, telling her he couldn't understand why she didn't want to take it home and stick in a drawer as a keepsake. Lol.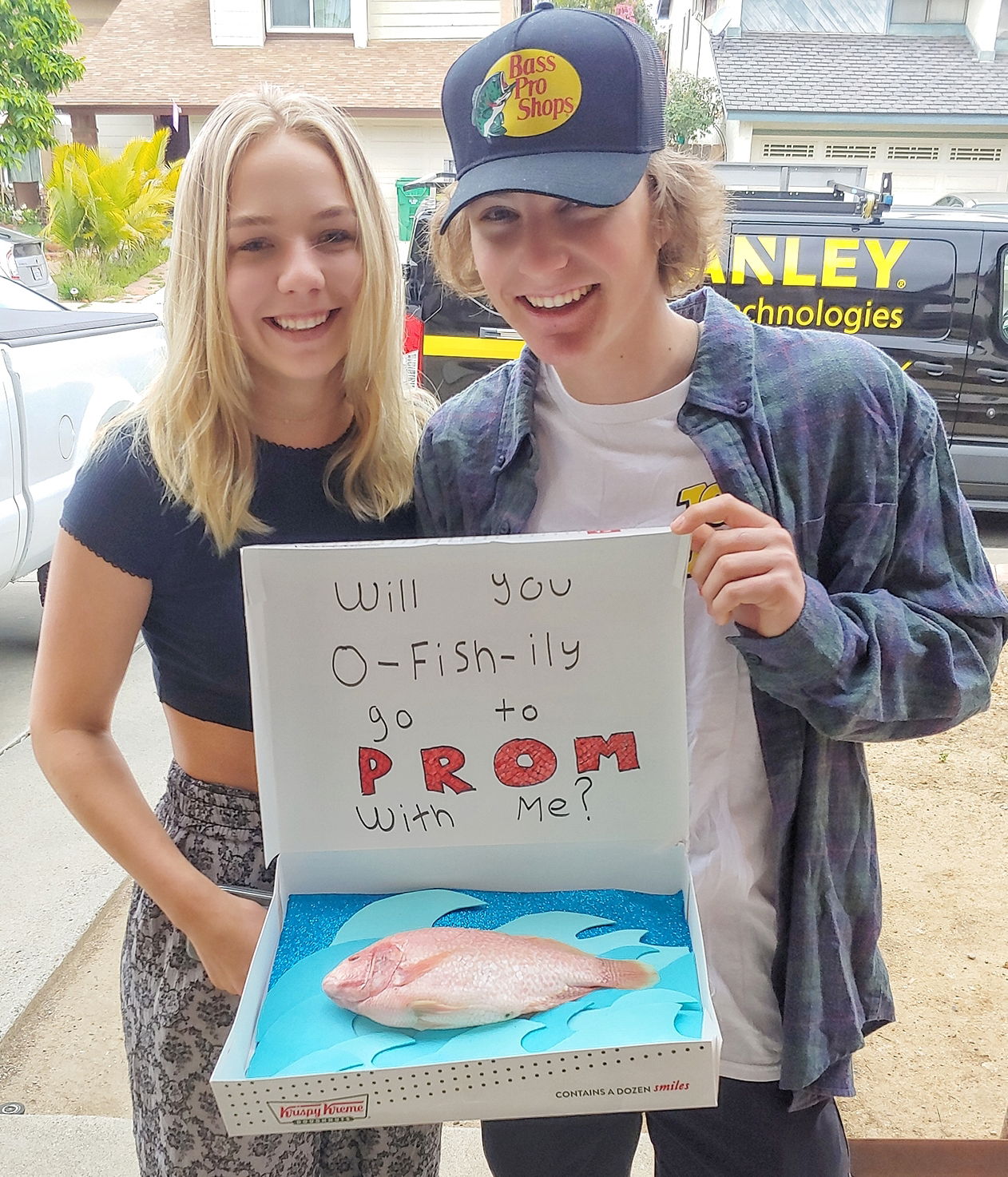 In the end, we all thought it was hysterical. I made sure to send the photos and video to his mother and our California family to enjoy. After all, we didn't have promposals in our day! And this is why I insisted on capturing the moment.
See, I can think like a mother after all.
Coming from a family of fishermen, fish lovers, and donut lovers back East, I just know my parents and brothers will love this story, and I hope you do, too.